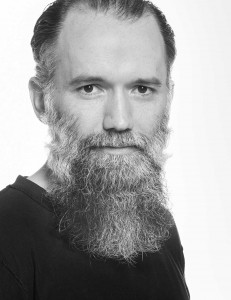 Born in Windsor, Ontario.
Lives and works in Basel and Copenhagen.
Education
2015 European Graduate School, Ph.D. (Philosophy, Art and Critical Thought, summa cum laude)
2005 New York University, New York NY. Masters (Interactive Telecommunications Programme)
2003 University of Glasgow, UK. B. Eng. Music Composition & Electronics
2000 Queen's University, Kingston, Canada. B. Eng. (First Class) Industrial Engineering
Residencies
2017
Trial Fellow, Trent University
2016
Roja Art Lab Latvia Residency
2008
Artist-Researcher in Residence New York NY, Eyebeam Art & Technology Center
2004-2008
Systems & Interactivity Designer New York NY,
ESI Design
2006
Art & Technology Curator New York, New York, Lower Manhattan Cultural Council (LMCC)
2005
Composer in Residence New York, New York, Baryshnikov Dance Foundation
Exhibitions and commissioned works
2015
Collaborative Exhibition, My Holy Nacho. (with Bernhard Garnicnig) Network-sculpture 'built by the Internet' and exhibited at Kunsthal Aarhus and Nicholaj Kunsthal, Copenhagen.
Group Exhibition, The Lie Machine. Media-historic artefact. Commissioned by LEAP Berlin (Obsessive Sensing), exhibition at Eastern Bloc Montreal (BPLTC II: Identity Control w/ Zer-Aviv, Blas)
2014
Commissioned Work, Critical Infrastructures (with David Gauthier). Data and media installation at the Haus der Kulturen der Welt, Berlin for the 2014 transmediale afterglow.
Commissioned Work, #rocks (with Rodrigo Novaes). Sound installation at the Neue Nationalgalerie Berlin for Olafur Eliasson's Festival of Future Nows.
Commissioned Work, Archive Factory. Residency project for the Internet Archive.org Tumblr Residencies, a series of internet-based projects hosted on Tumblr using Archive.org content.
2013
Group Exhibition, Imaginary Apps. Multimedia exhibition organised by Paul D. Miller aka DJ Spooky and Svitlana Matviyenko. Exhibitions at Harvard Design School.
Group Exhibition, YouTube Wunderkammer. Multichannel video exhibition curated by Andreas Broegger, Nikolaj Contemporary Art Center, Copenhagen.
Solo Exhibition, Refractive Index. Multichannel video, photography and interactive software exhibition curated by Kuba Ryniewicz, PH. Gallery.
Public Art Installation, I Love the Internet and the Internet Loves Me. Low profile computer, audio amplifier, megaphone speaker connected to personal Facebook feed. Click Festival, Helsingør.
2012
Performance, Is This Thing On? Internet radio broadcast Fluxus scores for no-performer and no- audience. Part of the Or-bits (or-bits.com) and Basic FM online curatorial programming.
Group Exhibition, Refractive Index. Multichannel video, photography and interactive software exhibition as part of the Future Everything Festival, Manchester, UK.
Group Exhibition, Imaginary Sound Works. Part of Codes of Contingency exhibition at 319 Scholes, Brooklyn, New York.
Public art installation, Refractive Index. Large scale, nation-wide interactive media exhibition in collaboration with BBC Big Screen systems at multiple locations across the UK. Supported by the Cultural Olypiad and Arts Council England.
Caution Matter with Liliane Lijn. Multichannel video work exhibition at Ruskin Gallery curated by Bronac Ferran, Cambridge.
Performance, You're So Fucking Spatial (Skype text chat) Fluxus score after "Music for High Tower and Without Audience" by Nam June Paik. Presented by FUTURE FLUXUS curated by Bronac Ferran, Cambrige.
Performance, Soundwwwalks curated by Bernhard Garnicnig, ISEA2012 Istanbul, Istanbul. Group Exhibition
2011
Imaginary Sound Works. Part of the Klangmanifest sound art festival, Echoraum, Vienna.
Performance Series, MLB. Curated performance series in collaboration with STEIM Center for Interactive Music, Amsterdam.
2010
Live Performance, Live visuals and sound for The Fable of Media Technology: On My Watch by Avital Ronell, Saas-Fee.
Group Exhibition, Killing Lena (2007). Digital video piece in exhibition Persistence of Vision exhibited at FACT, Liverpool and Nikolaj Copenhagen Contemporary Art Center.
Group Exhibition, Resonator with Will Schrimshaw. Week-long sound art and materialist practices in media event, as part of the AV10 Festival.
2009-2011
Curated Series, Lunch Bites. Curated series of talks on topics in cultural studies, new media, technology and art. Culture Lab, Newcastle University, Newcastle Upon Tyne.
2009-2012
Workshop Series, Chiptune Marching Band (with Jo Kazuhiro). Energy and sound workshop, public performance at international venues: Berlin, Tokyo, New York City, Helsinki, London.
2009
Public art installation, Current with Laura Harrington. Commissioned permanent public artwork by Inspire Northumbria, Blyth, UK.
Mobile-device Public Art Installation, From Here On Out. Commission from the Wunderbar Performance Art Festival, Newcastle.
Performance, Human Potential (Movement). SIGGRAPH ASIA Art Gallery & Emerging Technologies, Yokohama.
Workshop, Transmisol (with Geraldine Juarez). Alternative energy radio transmission workshop, commissioned by the Transitio Festival, Mexico City.
Public art installation, ROBO POEMS (with Corey Murphy). Micro-radio poetry transmission art piece in the streets of New York. Presented as part of the Conflux Festival, New York City.
2008
Performance, circuitMusic. Dao Art Space, Korean Arts Council sponsored electronic music festival, Seoul.
Group Exhibition, Left Luggage III. Showing of foreign artists in Korea at Yoo Art Center, Seoul.
Prizes & awards
2016
Swiss National Foundation (CH) – Research Project Grant
2014
Canada Council for the Arts (CA) – Production Grant
2013
Canada Council for the Arts (CA) – Travel Grant
Danish Arts Council (DK) – Arts Production Fund
European Union (EU) – Framework 7 Programme Research Funding
2012
Danish Arts Council (DK) – Publishing Award
European Union (EU) – Ambient Assisted Living Programme
2011
The Korea Foundation (KR) – Fellowship for Field Research
2010
Welcome Trust (UK) – Welcome Trust Grants for Artists
Arts Council of England (UK) – Grants to Artists
2009
Northern Film and Media (UK) – Innovation Fund
2008
Arts & Humanities Research Council (UK) – Collaborative Research
Academic appointments
2014-present, Senior Researcher, Basel Switzerland, Critical Media Lab Basel – ixdm.ch
2012-2014, Head of Research, Copenhagen, Copenhagen Institute of Interaction Design
2008-2012, Assistant Director/Head of Subject, Newcastle UK Culture Lab, Newcastle University
2008, Visiting Lecturer, Kolding DK, 
Kolding Design School – Interaction Design
2005-2008, Adjunct Professor, New York NY, 
NYU Tisch School of the Arts – Interactive Telecommunications Program
2005-2008, Visiting Instructor, Brooklyn NY,
Pratt Institute of Art and Design – Department of Digital Arts – dda.pratt.edu
Publications
Allen, Jamie; Jordan, Ryan (2013) Signal Aesthetics. Proceedings of the Media Art Histories 2013: RENEW Riga.
Allen, Jamie. (2013) Is This Thing On? Internet Radio Fluxus Scores. In On the Upgrade, an or- bits.com published artistic monograph.
Allen, Jamie. (2013) Of Minimal Materialities and Maximal Amplitudes: A Provisional Manual of Stroboscopic Noise Performance, "Live Visuals for Performance, Gaming, Installation, and Electronic Environments" Editors Aceti, Gibson and Müller Arisona. Leonardo Electronic Almanac, MIT Press.