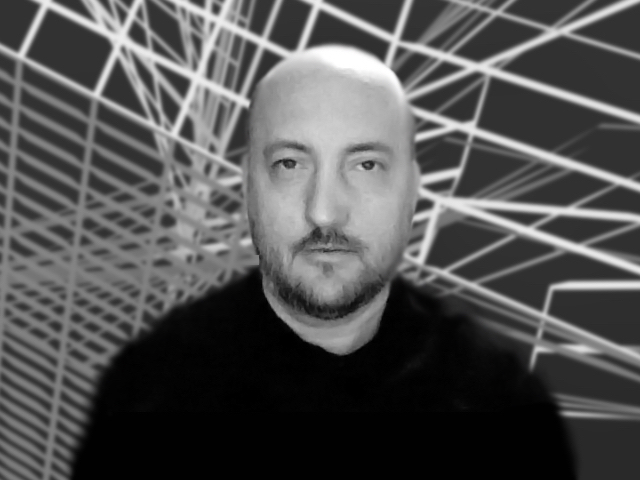 Born in Milan, 1964.
Lives and works in Milan.
Selected exhibitions and audiovisual performances
2016
Materia Sonica, A+B  Brescia
Sonora, Studioselva, Milano
2015
UVM, Un. de Brasilia Brasil
Hypnotic Frames ,  Oradea, Romania
Materia Sonica, A+B  Brescia
2014
Milano Musica, Milano
ZEA#01,  Expo Gate, Milano
2013
Pattern: Forma, Formação, Informação, Un. Anhembi Morumbi Sao Paulo Brasil
#12.ART , Museu Nacional Brasilia Brasil
Auditorium San Fedele, Milano
2012
Palinsesti, Palazzo Altan, San Vito al Tagliamento Udine
Cosecosmiche #3, Galleria Artra, Milano
Cronosfera, Cavatore Alessandria
Selected music albums
2014
Chinvat, Radicalmatters.
2009
Punti, linee, Miraloop Records.
2008
Various Authors, Il Gesto del Suono, Auditorium Edizioni.
2003
K.Stockhausen, Freitag aus Licht, Stockhausen Verlag.
Selected  books and papers
2016
La Scrittura musicale nell'Età del Computer, La Camera Verde, Roma.
"Quello che riiconosciamo" in Bianchi, A. & Leghissa G. (eds.) Mondi altri. Processi di soggettivazione nell'era postumana a partire dal pensiero di Antonio Caronia, Mimesis. Milano.
2015
"Nell'Alto dei GIorni Immobili: une Analyse Esthésique" in Arbo, A (ed.) Anamorphoses. Études sur l'Œuvre de Fausto Romitelli, Hermann, Paris.
2014
"Mi chiami semplicemente Stockhausen" in Maconie R. (ed.) Karlheinz Stockhausen. Sulla Musica, Postmedia, Milano.
2011
"Living in Sound" in Ascott, R. & Girao, L.M. (eds.) Consciousness Reframed 12, Un. de Aveiro, Portugal.