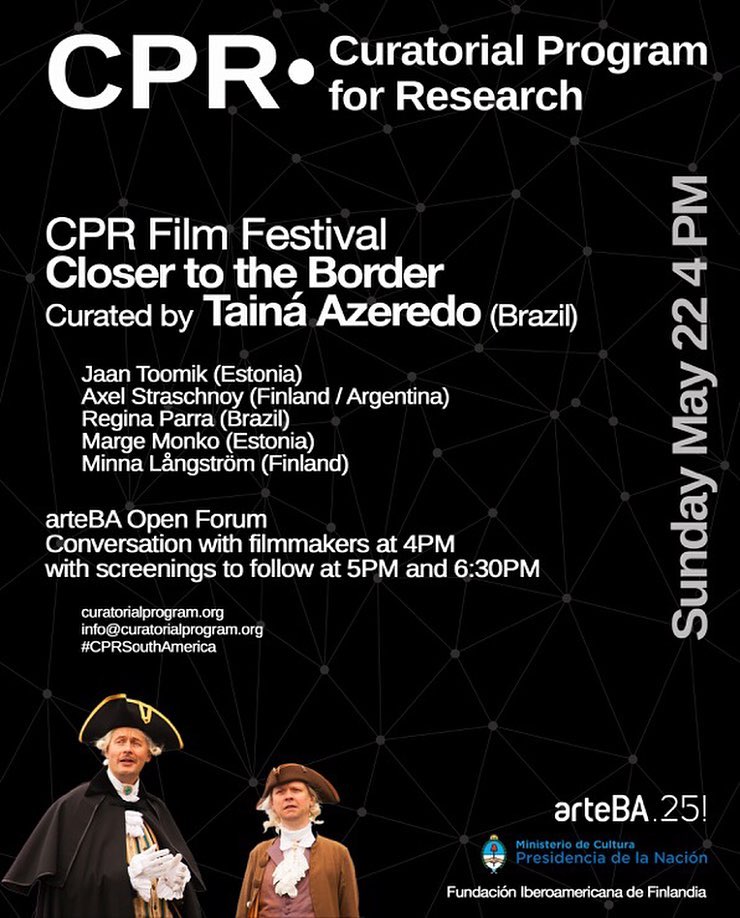 CPR FILM FESTIVAL
MAS CERCA DEL BORDE (CLOSER TO THE BORDER) curated by Tainá Azeredo.
The experience of traveling, the moving across the boundaries, the innumerable invisible lines that define what is on that or the other side. Más Cerca del Borde (Closer to the Border) takes the shape of a film cycle that touches marginal issues, and It's here, at this border where structures, languages, conducts, politics, histories, dreams and traumas are defined. The sequence of videos translates the impossibility of staying in both sides of the line at the same time. The complexity of this action of passing from one side to the other is hard to identify just with the eyes, which cannot escape from the fact that they are looking from the inside out. There is no center; the line is invisible to whom is trying to see it, but extremely real for those who are in one or the other side.
The film by the Argentinian artist Axel Straschnoy, La Figure de la Terre, is based on the homonymous book wrote by the French scientist Pierre Louis Moreau de Maupertuis, that describes the scientific expedition conducted by him in 1736 through the River Tornio Valley to prove the real shape of the Earth. On the film, 19th century and contemporary elements are placed in parallel, bringing different aspects that cross themselves geographically and temporally.
SUNDAY, MAY 22 – 4PM. CPR Film Festival
Closer to the Border, Curated by Tainá Azeredo (Brazil)
A selection of six films address the limits by which structures, language, values, policies, stories, desires and traumas are defined. Azeredo, a participant in CPR 2015: Eastern and Northern Europe, was invited to curate this Film Festival for the 25th anniversary edition of arteBA. Artists: Jaan Toomik (Estonia); Axel Straschnoy (Finland / Argentina); Regina Parra (Brazil); Marge Monko (Estonia); Minna Långström (Finland). Moderated by Jorgelina Dacil Infer, Director of Development. Presented by Carmen Ferreyra, CPR Director. With the support of Fundación Iberoamericana de Finlandia.
SUNDAY, MAY 22 – 5PM                 First screening
SUNDAY, MAY 22 – 6.30PM            Second screening
CPR Film Festival is a series of film and video exhibitions around the world, by curators who have participated of the programs. Featuring works by artists living in cities visited during our Core Programs, CPR Film Festival is one of the platforms that CPR provides for the professional development of our curators in residence.
For more information about Axel Straschnoy please click here.
For more information about CPR Festival please click here.